Chicken Roll is marinated chicken fillets,stuffed and rolled with the bean curd wrapper,simple,easy delicious recipe.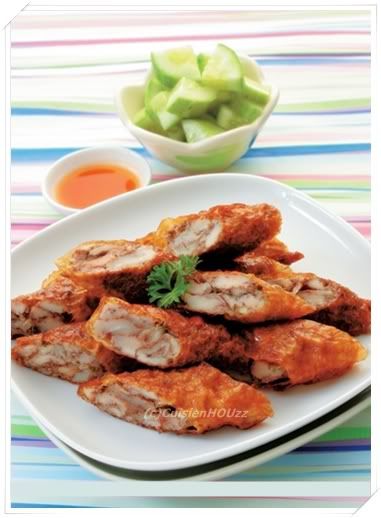 THE MAKING PART
Prep Time 25 minutes cooking time 20 min serves 6
1 large onion;chopped finely
4 water chestnuts;cut into small cubes
2 pieces beancurd sheets,cut into 22x14 cm
combine and Mix
500g chicken fillet,sliced
START,CAMERA,ACTION
Marinade the chicken for at least an hour. Add chopped onion, water chestnut, and cornflour, egg and egg yolk. Mix well.

Two spoonful of mixture onto 2 layers of bean curd sheets. Fold and roll up, sealing the edges with egg white using a brush.

Repeat the process until mixture is used up. Heat oil in wok over medium fire.

Fry bean curd roll in batches until golden in color. Drain and serve chicken rolls with sliced cucumber and chili sauce.
Posted by:
Gayu
Send in your queries by clicking

here

.