Jeera rice is one of the North Indian rice recipe best served with Cucmber raitha and Tandoori aloo that I have posted already.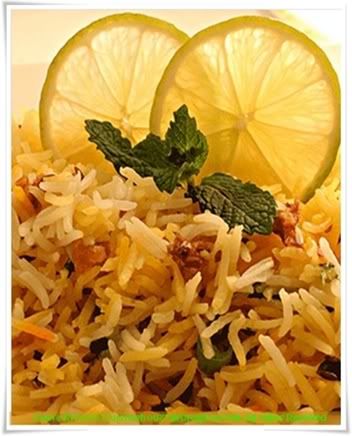 THE MAKING PART
1 Cup Basmati rice
11/2 Cups Water
1 Onion;finely chopped
2 tsp Cumin/jeera seeds
1 no Bay leaf
2" 3 nos.Cinnamon stick
1 no.cardamom
2 tbspn.Ghee
Salt to taste
START,CAMERA,ACTION
1. Wash rice thoroughly and soak in water for 20 minutes.Drain it thoroughly.
2. In a pan, heat Ghee,add the cumin seeds, bay leaf, cardamom,finely
chopped onion and cinnamon,fry until the sizzling sound turns off.
3. Add the rice and blend well,ghee coats the grain of rice. Add salt to taste.
4. Add water,bring to boil for a while and stirring once.
5.Cook under medium heat,cover the pan with a lid slightly open,that is leave
some space so that the boiling water becomes steam.
6. Rice will be done within 15 minutes,water has been completely absorbed.
7. Transfer the cooked rice on a serving bowl to seperate the rice grains.
8. Serve hot with any curry.
Posted by:
Gayu
Send in your queries by clicking

here

.