Seafood Fried rice is the main,regular dish,sharpened with more vitamins,proteins,minerals for the coastal area people in all around the world.As we have the close look up on the South Asian countries,the sea food is one of the most popular food.Today I have share with the delicious main course food of the Indonesian Food...yes Fried rice with main key ingredient of dried prawns.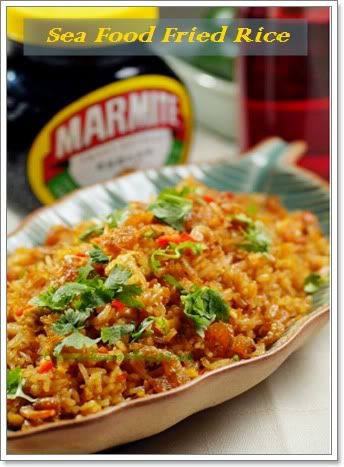 THE MAKING PART
4 cups cooked rice
3 eggs;lightly beaten
120 gm dried prawns,soaked for 10 min,drain
2 spring coriander leaves,chopped
4 tsp fried onions
5 tsp cooking oil
POUND/GRIND
4 cloves garlic
8 shallots
6 dried chillies,soaked
Seasoning
1 tsp Mushroom Sauce/Oyster Sauce/Marmite2 tsp water
1 tsp sugar
START,CAMERA,ACTION
Heat the wok with 2 tsp oil and fry the dried prawns till crispy over medium flame.Remove and set aside.

Add 2 tsp oil,fry the beated eggs,stirring all time until just cooked.Remove and set aside.

Using the same wok,heat 2 tsp oil and saute ground ingredients until fragrant.Add in seasoning ingredients and rice.

Stir fry rice until well mixed with sauce.

Then add the fried dried prawns,eggs and chopped coriander.

Toss till well combined.

Garnish with fried onions.
Send in your queries by clicking

here

.