Stir-fried watery Soya Spinach is the simple dish with crushed garlic,chilies,soya sauce,which gives you the nice salty,little bit spicy,water spinach.I have posted this recipe with CuisineHouzz's YouTube video link.This dish has to cook under low flame to enjoy the real fresh green color of the spinach and it's a jiffy recipe.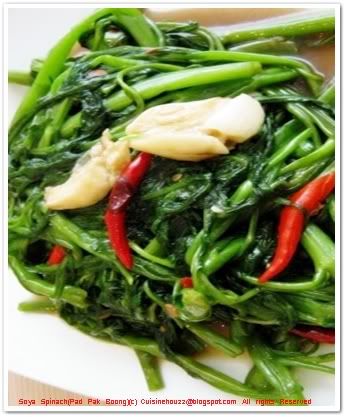 THE MAKING PART
1 bunch Soya spinach (pak boong)
3 cloves garlic,crushed
3-5 Red chilies,crushed
3 tablespoons vegetable oil
1 tsp Light soya sauce
Salt to taste


START,CAMERA,ACTION
Wash the Water Spinach in clean water.Remove and drain then cut into 2" long.

Take a pan/wok,heat the oil,add crushed garlic,allow to fry them for a minute.

Now add the drained spinach,add some salt(add less,because the spinach has salty taste in natural).

Now add the tsp of soya sauce and little bit pepper.

Add the slitted fresh red chillies,cook for a minute.

Serve this Healthy side dish with Roti,Chapati,Rice.
Send in your queries by clicking

here

.